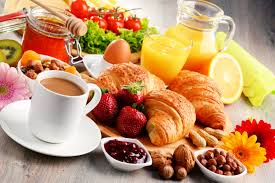 Breakfast here means best moment of the day !
It's the "little extra" of our Bed and Breakfast – to serve you a generous and varied breakfast!
Of course, traditional crunchy croissants and fresh baguettes will be available, but never alone !
Every morning you will savour dairy products, homemade jam, fresh fruit, and other treats…
A real breakfast must include its savoury counterparts. You will succumb to the temptation of our delicatessen assortment and selection of cheeses from the region. Not to forget a wide choice of tea, coffee and fruit juice.
Enjoy yourselves !!!!