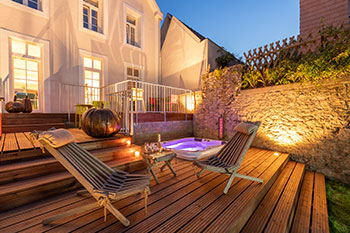 Recently renovated, this beautiful villa in Wimereux has conserved its previous charms, whilst benefitting from the most recent equipment and amenities. Be curious, open the door to our house and it will reveal its charms to you.
Its secret asset: a charming little closed garden, where, far from the noises of the city, you will experience the tranquil atmosphere of the Côte d'Opale, lulled by the wind in the pine trees, and the distant cry of the seagulls.
Sunbathing on the grass, relaxing in the outdoor hot tub, the pleasure of gourmet breakfasts on the terrace, Le Petit Roulis' garden will allow you to bathe in the ambience which gives our seaside resort all its charm.
A house where living is enjoyable :
It is a beautiful day? Savour your breakfast outside, away from it all, and take the opportunity to enjoy the calm.
The weather becomes fresher? Start a board game, very warm and cosy next to the fireplace.
And if you feel like taking time for yourself after coming back from the beach, you could always enjoy the gentle light filtering through the bay window, comfortably installed on the sofa, with a good book.
Here, we take our time and everybody can plan their journey as they wish. You are on holiday after all!